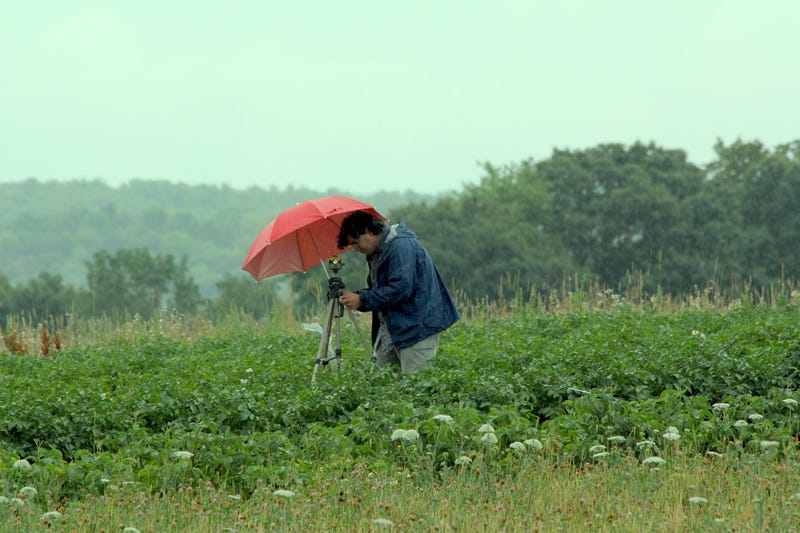 Location: Ithaca, NY (and various field locations)
Current gig: Engineering Physicist for the Bioacoustics Research Program at the Cornell Lab of Ornithology, and graduate student in Biological and Environmental Engineering at Cornell University. I blame the fantastic Cornell Employee Degree Program for my dual job title.
Current mobile device: iPhone 4S
Current computer: 2009 MacBook Pro in the bag, 2013 iMac at the standing desk, and Dell Precision Mobile Workstation on the workbench
One word that best describes how you work: manually
What apps/software/tools can't you live without?
Apps/Software:
Mostly my app use is boring. I need Calendar (formerly iCal) to pull me through the various meetings and, during the semester, classes that I need to attend. Keeping the alarm at least 15 minutes before each new event helps me stay on time despite working in three buildings ten minutes from the Cornell main campus, and having my co-workers' schedules show up is useful for impromptu discussions. Mac Mail is similarly helpful, though I've discovered some bugs in its integration with first Microsoft Exchange, and now Microsoft Outlook365. In my four-and-change years at Cornell, we've gone through three major changes in calendar and e-mail backends, and they've all been annoying.
The WolframAlpha app is the absolute best thing to happen to any iOS device. Ever.
For my writing, I often use Word for internal reports and documents, but since I'm also publishing scientific papers and taking notes in physics and EE classes, I use LyX, a LaTeX WYSIWYG editor, for the vast majority of my nitty-gritty typesetting. Remember command-M (ctrl-M on Windows) for math mode, and you'll get much quicker. I'm also a major fan of both OmniGraffle and OmniGraphSketcher (now deprecated) for producing figures quickly and easily. Finally, I'm not certain I could do my job at all without Excel, gnuplot, and MATLAB.
Having access to more than one OS is very handy in my line of work, as I wind up working on firmware in Windows, VLSI work on Linux (mainly Debian and Ubuntu), and the majority of my writing on my Macs, which can easily run the other two OSes.
Tools:
For the tools in my office, I think that my soldering iron and magnetic tool bar full of hand tools are essential to my everyday work. When you make things with your hands for a living like I do, it's useful to have your files, screwdrivers, wire cutters and strippers, and other tools close to hand. My Agilent 34410 multimeters, 33220 function generator, and E3631A power supply, along with my Tektronix TDS2024 oscilloscope get used on a nearly daily basis as well. A good heat gun and hot-melt glue gun round out the list of tools used at the bench on a regular basis. I also have DTFs (Dead Tree Format) of the usual boards and circuits that I work with on a cork bar above my workbench, so they're always easily accessible.
At our anechoic chamber, I use our Brüel & Kjær microphones, hydrophones, and amplifiers, without which we would have no idea whatsoever what sound levels were being produced, and our Audio Precision APx525, an audio analyzer that has taken two-day tests down to a half hour.
What's your workspace like?
I have more than one, as I have my office and also the outbuilding where our anechoic chamber is, and some of my writing and homework are done at home. My office workspace is comprised of my desk, my standing desk, and workbench, as well as storage and meeting areas, including a superlatively comfy folding chair that I got at Staples for $35.
The anechoic chamber workspace is comprised of two workbenches and an equipment rack that contains our primary instrumentation. At home, my workspace is either a recliner or our couch, and when I'm out in the field, my navy blue 2006 Toyota Matrix is my workspace and power source.
What's your best time-saving trick?
Believe it or not, you should never underestimate the power of key commands. Another thing worth mentioning is that there should never be a meeting that doesn't have an agenda; those without agendas are known as time-wasters.
What's your favorite to-do list manager?
This is simply my spiral-bound to-do notebook. I have several archived on a shelf, and they're very useful to go back through to see what projects were happening when. It's just a simple spiral-bound notebook (from Staples), and when I get in to work each day, I date the top right corner of the page, and proceed to write down all of my tasks that are currently demanding my attention. I often find myself importing tasks from the previous day and drawing arrows after them after I'm done doing so. When I finish one, or reach a stopping point, I check it off in the left margin, and if it needs further attention the next day, I draw an arrow next to it on the right. If the task disappears from my plate during the course of the day without me doing it, I draw an X next to it in the left margin. I don't know whose GTD-type system I adapted this from, but it has been extraordinarily useful.
Besides your phone and computer, what gadget can't you live without?
There are a few: my pocket flashlight (TerraLUX Lightstar 100), Leatherman Style PS, Schrade Keychain Pry Tool, and Fisher Bullet Space Pen are all on me as my EDC, and earn their place day after day. I also absolutely love the new Moleskine Professional Notebook that I now use for every meeting, along with the Manhattan Portage messenger bag that I got for $25 to carry it all in.
What everyday thing are you better at than anyone else?
I don't claim this at all. I'm pretty good at thinking outside of the box, so to speak, but that's an in-the-box attribute nowadays.
What are you currently reading?
What do you listen to while you work?
A lot of relatively calm stuff. I have a Spotify playlist called "Chill" that features José Gonzalez, Junip, Explosions in the Sky, Alexi Murdoch, and Nick Drake, among others. I've also been listening to the stuff that I can find off the National Parks soundtrack.
Are you more of an introvert or an extrovert?
My wife, who's a true introvert would tell you that I'm an extrovert, and I do love a good schmooze. However, I also like being by myself, and getting into the "maker zen" state of mind. I sometimes go out for half a day fly fishing on the weekends, more to get out into the beautiful creek gorges in my area than anything else, though I really want to catch some landlocked salmon.
What's your sleep routine like?
I go to bed early (~9:30-10:30p) and get up early (~5-5:30a). I can't nap, because I usually wind up in the 60 minute sleep inertia zone, feeling headachy and disconnected from my body. When I get up in the morning, I usually let our collection of chickens and geese (five barred plymouth rocks and two american bugs, respectively) out to start foraging, then start reading news, e-mail, and blogs, and then sometimes start writing.
Fill in the blank: I'd love to see ______ answer these same questions.
Phil Torrone, Bre Pettis, Mikey Sklar and Wendy Tremayne, Jenna Woginrich, Hod Lipson, and Aaron Rice.
What's the best advice you've ever received?
"Don't worry about that: it's above your pay grade." — Harold Cheyne, my supervisor.
Is there anything else you'd like to add?
There are too few people making things with their hands in the world today. Let's start changing that.